2023 Calendars - Are you giddy over good organisation?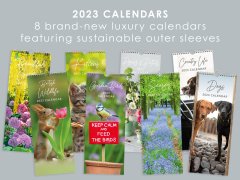 Struggling to keep track of all those endless rescheduled plans? Keep your arrangements in check with our fantastic 2023 calendar offering. Whether you prefer cute kittens, dogs, landscapes, country scenes, British wildlife or florals we have it covered and can provide the perfect accessory for you. Some of our best-selling designs have been included in this year's planners, along with a number of brand-new images.
Due to their sleek, slim presentation our wall calendars are perfect for the home or office. The designs are fitted with wiro binding and a full width steel hanger for easy and secure hanging. Sustainability is at the forefront of our thoughts, for added protection each design is packaged in an attractive printed 'plastic free' cardboard outer wallet.
For more information, please call our sales office team on 01638 569050 or visit the calendar range page to see the collection in full.