BBC Countryfile capturing the countryside at its best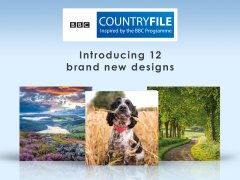 Stunning photographic images delight the BBC Countryfile audience by capturing the beauty of the great outdoors on camera. Inspired by this long-running factual TV programme, the range includes spectacular shots of much-loved UK beauty spots, wildlife, farm animals and domestic pets.
The range captivates whether you are a seasoned walker, hiker or someone making their first venture into the countryside. It celebrates the splendour and diversity of the UK's scenery as well as covering topical subjects including the environment, wildlife, farming and leisure activities.
Formatted to 160mm square, each design features interesting facts, written by the Countryfile team, on the reverse of card. Finished with a high gloss varnish, the designs have been left blank inside for the sender's own message. To see these new designs and the entire range please visit the Countryfile range page.
Please note these cards are only available to order by UK and Ireland trade customers, they are not available to export.