Festive Splendour with our 2022 Christmas Offering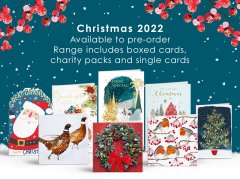 Whilst the great Christmas cardathon is still fresh in your mind, there could be no better time to plan for the 2022 festive season. If you would like to get Christmas wrapped up, we have a fabulous festive offering for you. More than ever it's important to show our appreciation for everyone we know. Taking time to choose, write and send a Christmas card is a simple but meaningful gesture.
Why not fly through your Christmas card list, whilst supporting and donating to some worthy charities, with our fantastic range of Christmas charity cello pack designs. Now available to pre-order, the 2022 collection includes a wonderful choice of illustrative and photographic designs, all packed in biodegradable cello bags. These designs are available in a 137mm square size, each pack contains eight cards of one design and are accompanied with either red or white envelopes. Abacus Cards are again proud to support two extremely commendable charities; Marie Curie and British Heart Foundation, both are supporters of excellent causes. For each pack purchased, a contribution of the retail price will be donated between the nominated charities.
Due to popular demand, the Christmas bumper box collection for 2022 has increased and the range now comprises 12 designs. Formatted to 160mm square, each box contains 27 cards of three designs. The range offers customers a great choice of photographic and illustrative designs as well as providing excellent value for money. Printed on quality board, the cards are accompanied by white envelopes.
In addition to our ever-popular bumper boxes we also have a superlative collection of luxury box designs. The range comprises six gorgeous illustrative designs, all of which feature intricate hot foil and emboss details. Presented to a 137mm square, each pack contains ten cards of one design and these are accompanied by quality white envelopes. Beautifully presented in a box with an attractive outer sleeve, each one is unique to the design inside. The sleeve not only secures the opening box flaps, but it also showcases the finished cards within.
Searching for that special card, then look no further. We have an exquisite assortment of single captioned Christmas cards that can provide the perfect design for each incredible person in your life. This year our offering includes designs for male, female and general relation titles as well as occasion cards. Each design is beautifully presented and includes a variety of finishes, including hot foil, embossed details, die cut and hand applied gems. The collection offers a fantastic range of sizes and price points, including extra-large format hand finished cards as well as a stunning selection of luxury hand finished single boxed cards. Sustainability is at the forefront of all our minds. Overall, the envelopes, boxes and majority of our cards can be recycled, however there are some elements that cannot be recycled. These include embellishments such as ribbons and gems, items such as these just need to be removed before placing the card in your recycling bin.
To satisfy a variety of retail outlets, the cards can be ordered by design or via one of the many Christmas packages available. The entire 2022 collection Christmas range is now available to view and pre-order online or via your local sales representative. Please contact your local sales representative or call our sales office team on 01638 569050 to make an appointment.