Rapture – A refreshing update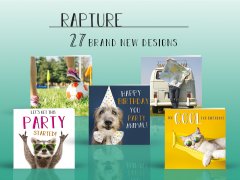 The collection comprises of square designs and showcases an array of eclectic subjects spanning quirky animals teamed with subtle humour, popular sporting pastimes, hobbies and interest, welling being and nature.
This latest offering highlights the rise in popularity of female sporting hobbies including football and ruby as well as pastimes including open water swimming and wellness pursuits such as yoga. Outdoor activities including paddleboarding, canoeing and hiking are also covered. These eye catching designs include birthday and blank designs and are printed on smooth board with a gloss varnish finish.