Spread a little festive cheers with our 2022 Clare Maddicott 2022 Christmas Charity Packs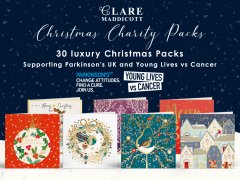 It's the most wonderful time of the year! Spread a little festive cheer with our fabulous new 2022 charity Christmas range. This year we have doubled our offering, so you're sure to find the perfect card to send to friends and family, whilst helping to raise vital funds for some worthy charities. This latest offering includes some beautifully illustrated designs produced by talented artists including Sarah Long, Emily Hauck and Belinda Drought. These superb designs are available in ten distinctive looks, with three packs of each style on offer. Comprising thirty stunning 137mm square designs, wrapped in biodegradable bags, each pack contains five cards of one design plus envelopes. Clare Maddicott Publications are again delighted to be supporting two worthy charities, Young Lives vs Cancer and Parkinson's UK through the sale of these eye-catching designs. Each card features intricate hot foil and emboss details and they are all simply greeted inside. An attractive, full facing, free standing display unit is available to showcase the entire collection.

The entire Christmas range is now available to view and pre-order online or through your local sales representative.